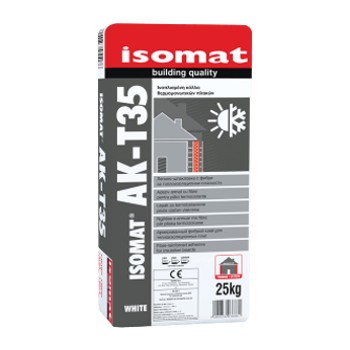 ISOMAT AK-T35
Fiber-reinforced, polymer-modified, cement-based adhesive for thermal insulation boards.
Isomat AK-T35 is a fiber reinforced cementitious adhesive, reinforced with polymer components. Provides high initial and final welding strength, elasticity and moisture resistance. It has zero slip and long open gluing time. 
Isomat AK-T35 used, in combination with plaster, as a system for the external thermal insulation of structures. It is suitable for gluing polystyrene thermal insulation boards on the exterior of buildings. In addition, reinforced with fiberglass, it is used to cover the thermal insulation boards and is thus the ideal substrate for the plaster that will follow.