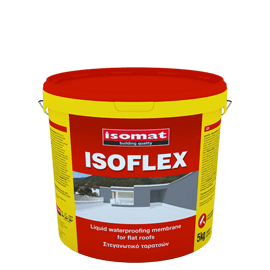 Isoflex
Elastomeric, liquid waterproofing membrane. 
Isoflex is an elastomeric, water-based, liquid waterproofing membrane for flat roofs. Has excellent bonding to various substrates, such as concrete, wood, metal and any type of waterproofing membranes and is applicable even to irregular substrates. After curing, it forms a continuous, elastic, waterproof and vaporpermeable membrane, without seams or joints, offering:
High elasticity.
High resistance to weather conditions and aging.
High whiteness and solar reflectance.
Improvement of building energy efficiency 
The white Isoflex is certified as cool paint. Certified according to EN 1504-2 and classified as a coating for surface protection of concrete. CE marked. Certificate No.: 2032-CPR-10.11.